Foreign traveler`s photo shooting plan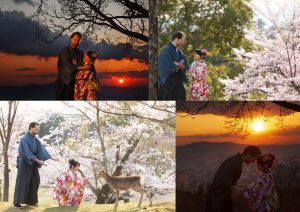 For foreign tourists visiting Nara City
I'm Takashi Maruyama, a photographer in Nara City.
Would you like to shoot in a wonderful location in Nara?
We will also take pictures with deer.
This is a travel photography plan for those who want to take pictures of lovers, couples, and families in Nara.
1 hour shooting plan.   ¥25,000
2 hour shooting plan     ¥30,000
3 hour shooting plan.    ¥50,000
Data delivery
Please pay in cash in Japanese Yen
Give it to the photographer before you start shooting
The shooting location is near Nara Park. Please contact us for other locations.
Costumes cannot be provided. Please prepare by yourself.
I will help you with the memories of a wonderful trip with photos.
For photo shoot reservations, please contact us on the web or use the email address below.
takashi_maru@mac.com
① Name
② contact address
③Desired shooting plan
④Desired shooting start time
⑤Meeting location
⑥request
⑦couple or family ?
My English is not good enough.
Sorry for the inconvenience, but thank you
I'm looking forward to seeing you
Takashi